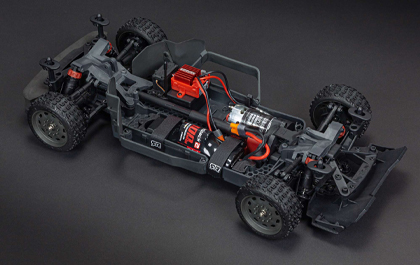 STRONG COMPOSITE CHASSIS
Features that contribute to the 4X4 MEGA platform's unstoppable performance include a strong composite chassis; steering with more clearance for stones; a castellated slipper pad and sliding gear mesh and rubber-shielded bearings throughout. Extended height dirt defenders limit the amount of dirt and debris that can get into the chassis tub. A large front foam bumper integrates with body for maximum protection.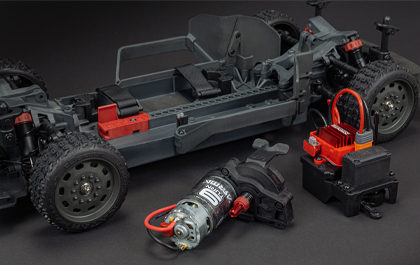 SIGNATURE EASY-ACCESS MODULAR DESIGN
The INFRACTION® 4X4 Mega Street Bash Resto-Mod Truck RTR incorporates the signature ARRMA® easy-access modular design. Separate, easily removable chassis modules for the power system, electronics, and differential components make routine maintenance fast and simple.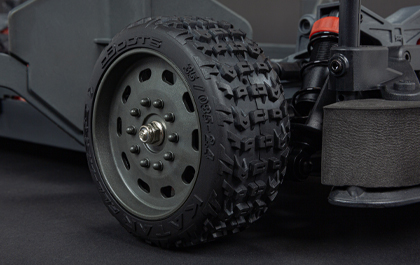 WHEELS & TIRES
The dBoots® Katar vented all-road tires are made of high-quality rubber for long-lasting durability and provide incredible traction in all surface conditions. The tires are glued to tough, gun-metal colored nylon wheels and include high-quality inserts for excellent tread support.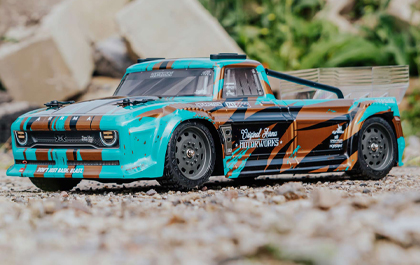 CLASSIC TRUCK BODY
The signature INFRACTION® Resto-Mod body offers classic truck looks for all-road bashing. It's available factory-finished in your choice of stunning red/blue or teal/bronze print schemes and includes protective roof skids and roll bars.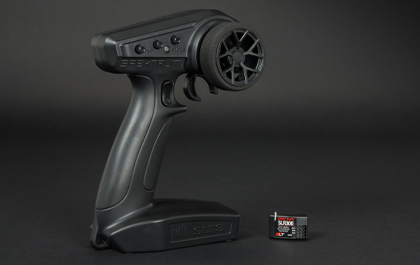 SPEKTRUM™ SLT3™ RADIO
The INFRACTION® 4X4 Mega Street Bash Resto-Mod Truck RTR includes the Spektrum™ SLT3™ transmitter and SLR300 receiver. The transmitter is ergonomically designed for long periods of fatigue-free bashing and has a foam wheel for precise fingertip control plus an improved hand grip and trigger feel. New bashers will be able to set throttle limits at 50% or 75% until they are ready to use the full speed potential. The SLT3™ is compatible with Tactic® SLT™ receivers to run other RTR vehicles you may own and includes a third channel to control optional features such as lights and winches on models that have them.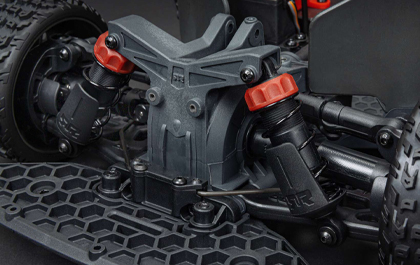 OIL-FILLED SHOCKS
The oil-filled shocks include silicone O-rings and are threaded to allow for easy ride height adjustments. Combined with the front and rear double wishbone suspension, front and rear sway bars, and large rear diffuser, they give the INFRACTION® 4X4 Mega Street Bash Resto-Mod Truck RTR the ultimate all-road handling.
Specifications