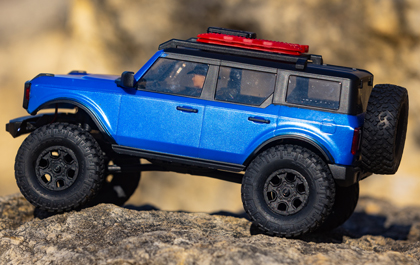 DETAILED SCALE FORD BRONCO HARD BODY
The Axial® SCX24 Ford Bronco achieves a whole new level of scale realism with its officially licensed, exceptionally detailed, and extra-durable ABS hard body with molded door handles, mirrors, and roof rails. There's also a mounted spare tire, plus optional second decal sheet for personalizing the finish.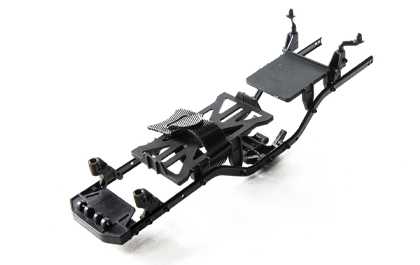 STEEL C-CHANNEL CHASSIS FRAME RAILS
Just like the 1/10 scale SCX10™ platform, the SCX24™ chassis features rugged and sturdy steel C-channel frame rails with bracing to keep everything intact and aligned.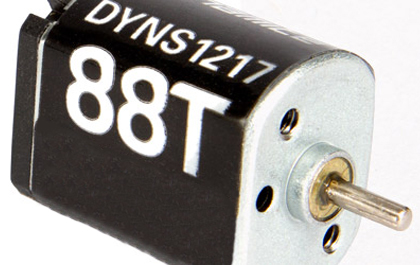 DYNAMITE® BRUSHED MOTOR
The included Dynamite® 88T 030-size brushed electric motor provides the right amount of torque for making steep climbs. It's mated to a steel motor mount to keep flex to a minimum and help protect the gears.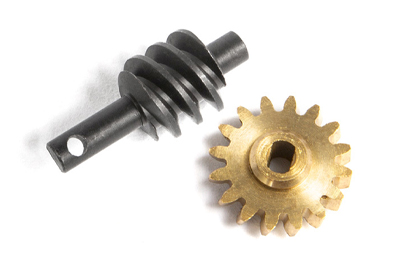 WORM GEARS
The front and rear differentials each house a worm screw and worm gear setup to get the power to the axles and create higher ground clearance.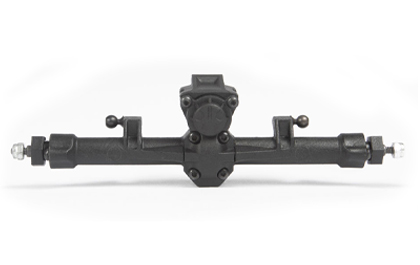 FRONT AND REAR SOLID AXLE HOUSINGS
The front and rear axles consist of a two piece, molded composite solid axle design. For optimal handling, the SCX24™ suspension features a three-link front and four-link rear setup.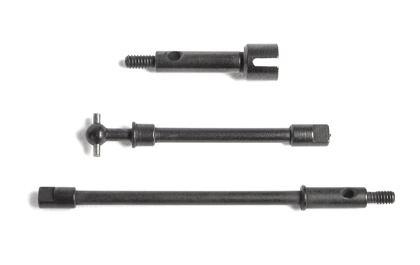 DURABLE STEEL AXLES
Steel front and rear axles, front stub axles and steel dogbones provide strength and durability needed to keep running with confidence during tough climbs and over rough trails.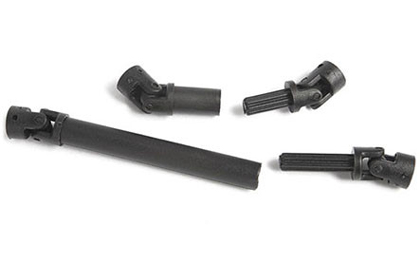 SPLINED DRIVE SHAFTS
The front and rear drive shafts are splined and sleeved to allow for maximum suspension travel while keeping the power to the wheels.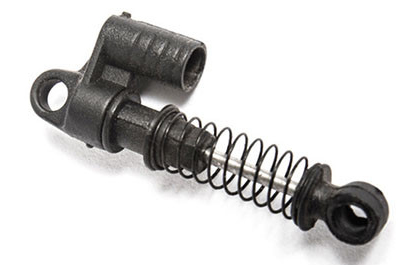 COILOVER SHOCK ABSORBERS
Even at this small scale, the combination of coilover shocks with simulated reservoirs and durable composite suspension links delivers the crawling performance you expect from an Axial® vehicle.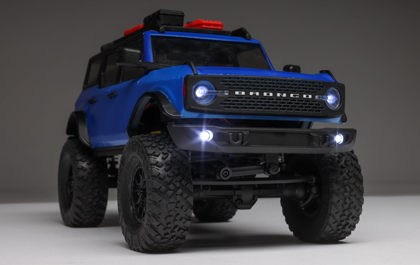 LIGHTS AND MOLDED LENSES
For maximum realism, working lights are included on the front corners of the scale Ford Bronco body and in the front bumper. All four corners of the body feature molded lenses.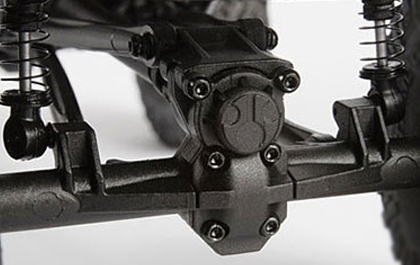 4-LINK REAR SUSPENSION
The rear suspension geometry uses a 4-link design which is optimized to reduce axle steer and torque twist.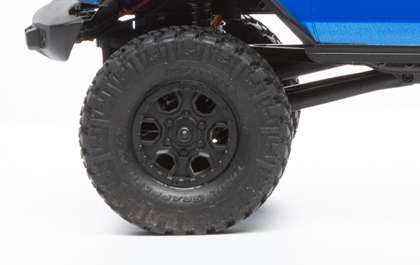 FACTORY FORD WILDTRAK WHEELS & NITTO TRAIL GRAPPLER M/T TIRES
Complementing the exceptional detail of the scale hard body, Axial® has outfitted the SCX24™ Ford Bronco with officially licensed Wildtrak wheels and Nitto Trail Grappler M/T tires. They offer a fantastic blend of off-road performance while retaining excellent composure for on-road use.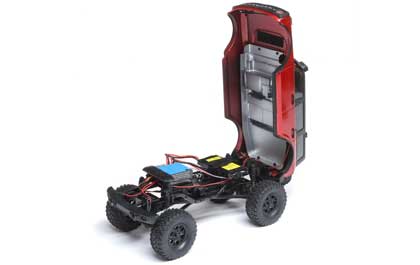 HINGED BODY SYSTEM
The hinged body system provides easy access to on-board components. Its hook-and-loop hinge design lets you reach the chassis and battery quickly by simply swinging the body up.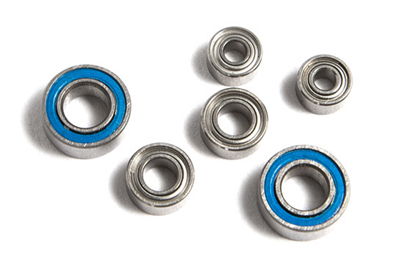 FULL BALL BEARINGS
Just because the SCX24™ is small doesn't mean its features follow suit. There are no bushings here — the drivetrain spins freely on sealed cartridge bearings throughout the entire vehicle.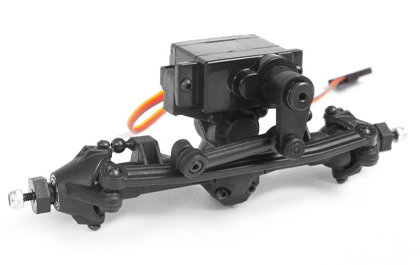 AXIAL® AS-1 SERVO
Mounted just above the front axle is the Axial® AS-1 servo, with a servo saver that allows for steering accuracy while protecting the servo gears in the event of a bind or impact.