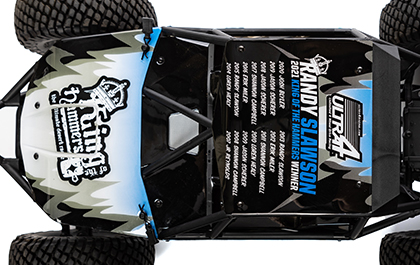 KOH EDITION LIVERY
The RR10™ Bomber Limited Edition KOH rock racer captures King of the Hammers spirit and style in a unique trim scheme (body panels and decals) created just for this release. One highlight: On the roof Axial® has screen printed the names of all past KOH winners, with an emphasis on Randy Slawson — the reigning 3-time KOH champion and the owner of Bomber Fabrication.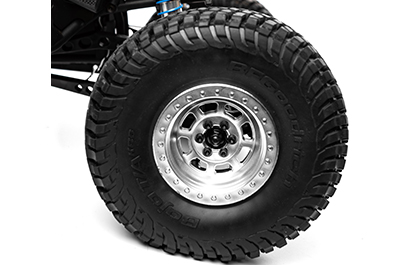 REALISTIC OFF-ROAD TIRES
BF Goodrich® Baja T/S KR3 tires on officially licensed, satin finish Trail Ready 2.2 bead lock wheels capture the aggressive looks and remarkable performance of popular full-size off-road racing treads.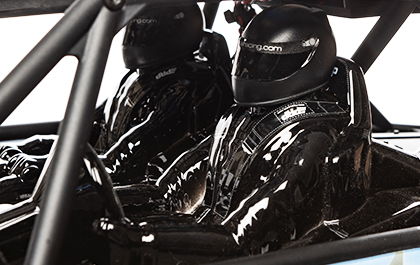 SCALE DETAILS
Realistic scale details include a polycarbonate interior tray with molded driver figures and dashboard; three pairs of black styrene helmets (motorsport, open skull-face, and motocross); scale molded shock reservoirs; fuel cell; and RR10™-licensed Bomber Fabrication scale tube chassis.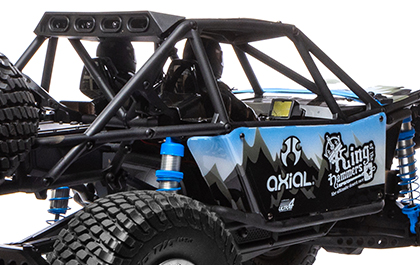 FULL TUBE CHASSIS
The Axial® Bomber has proven to be fast and indestructible, with the fastest and most widely recognized tube chassis in RC off-roading. Its high-strength composite plastic is engineered to withstand the hard knocks of rock racing.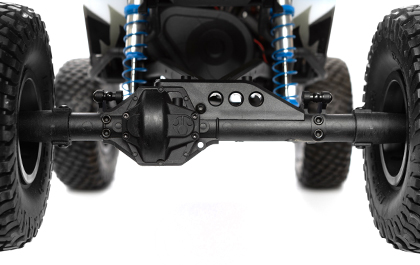 AR60 OCP-AXLE™ (OFF-CENTERED PUMPKIN DESIGN)
True 4-wheel drive locked differentials are included for improved traction. An offset pumpkin increases ground clearance and provides a better driveshaft angle.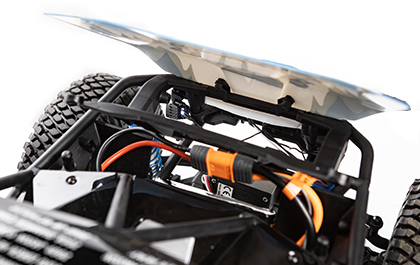 FORWARD-MOUNTED, EASY ACCESS BATTERY TRAY
To access the adjustable battery compartment, simply remove two body clips to release the front hood. The compartment allows ample room to install 2S or 3S LiPo batteries.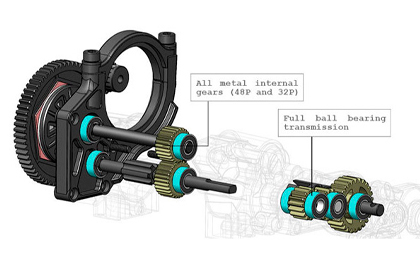 Hi-Lo TRANSMISSION (2-SPEED READY)
With all-metal internal gears, the full bearing transmission endures the harshest rock racing environments. The factory gearbox comes as a single speed, with the high gear installed. The integrated motor mount allows endless gearing options. The dual slipper uses a pad on each side of the spur gear for added surface area and more precise tuning and holding power. The spur gear features strong, 32-pitch gearing for high-torque applications. An optional two-speed transmission component is sold separately (AX31181 / AXIC0999).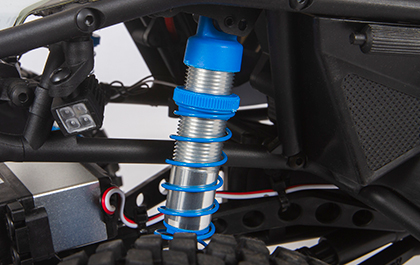 ADJUSTABLE ALUMINUM SHOCKS
The included aluminum King/Fox shocks feature precision-machined pistons which offer smooth performance throughout the range of travel. Made to tight tolerances, these aluminum shocks feature clear-coated, polished aluminum bodies and are threaded for quick ride height adjustments and pre-load tuning ability. The rear shocks are mounted on the links rather than at the axle, allowing for more suspension travel and better high-speed handling.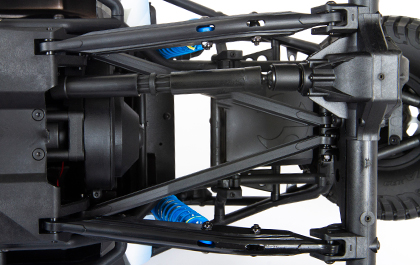 4-LINK SUSPENSION
The suspension geometry uses a 4-link design which is optimized to reduce axle steer and to provide the proper anti-squat and roll characteristics. The 4-link system also aids against suspension wrap-up in high-power applications.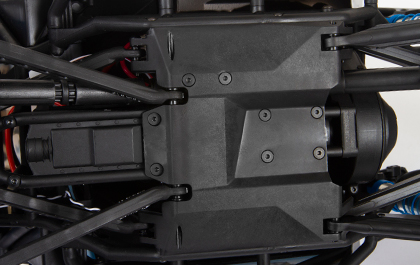 EASY ACCESS TO ELECTRONIC COMPONENTS
All electronics are routed and part of the skid plate assembly. Simply drop the skid plate and remove the shocks at the chassis to access the electronic components.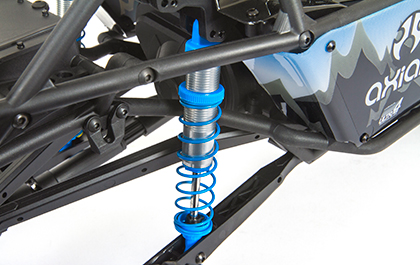 MULTIPLE MOUNTING POINTS FOR SHOCKS AND LINKS
Axial® includes a variety of shock mounting points for running dual shock setups and for additional suspension tuning options. On the skid plate you'll find two front and three rear upper link mounting positions. A sway bar mount is connected to the cage under the fuel cell for additional rear suspension tuning. An optional sway bar is sold separately (AX31331 / AXIC3331).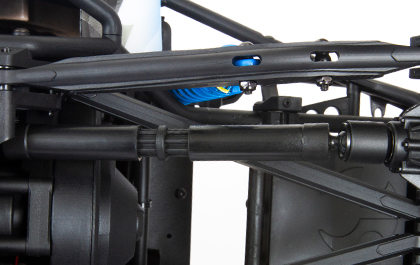 WB8 HD DRIVESHAFTS
The WB8 HD driveshafts feature an updated design with a larger diameter cross pin (2x11mm) along with an M4 Screw Shaft (2mm hex drive) for added strength. A center splined slider floats between each end and features added material which reduces flex and fatigue.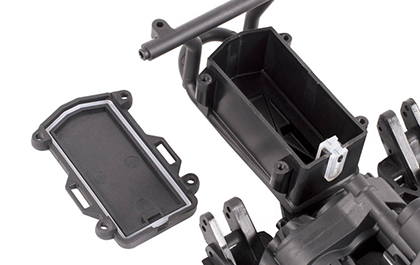 WATER RESISTANT RECEIVER BOX
The water resistant receiver box uses three different silicone seals: one for the antenna, one for the servo wires (with three slots for three channels), and one that acts as a gasket for the receiver box cover. No more stress when running in mud, water, or snow!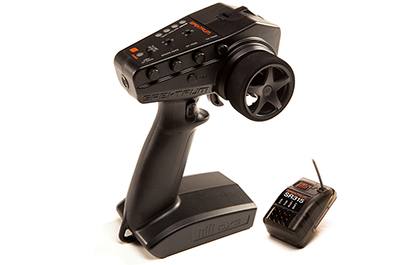 SPEKTRUM™ DX3™ 2.4GHz DSMR® TRANSMITTER
The included Spektrum™ DX3™ radio features exclusive DSMR® technology for superior range, response, and interference resistance. It also offers a thumb steering option for precise one-handed steering. The DX3™ is fully compatible with the Smart telemetry potential provided by the vehicle's SR315 3-channel waterproof receiver.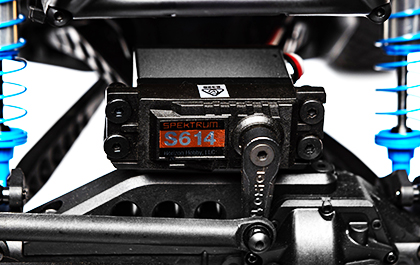 SPEKTRUM™ S614 15kg METAL GEAR SERVO
The Spektrum™ 15kg waterproof metal gear servo provides strong, reliable steering and lets you run in any conditions, rain or shine. Metal gears and a metal servo horn give it extra strength to withstand the abuse crawlers put on a servo.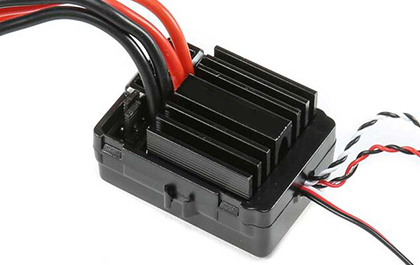 WATERPROOF AE-5L ESC
The 3S LiPo capable AE-5L ESC with IC3™ connectors features adjustable drag brake and a light controller with dual LED outputs for headlights and taillights.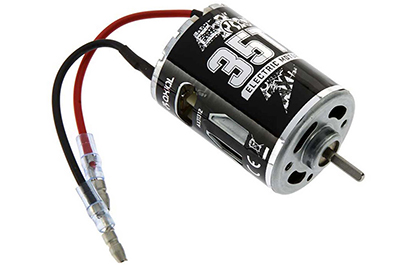 35T BRUSHED MOTOR
The easy-to-operate Brushed 35T motor delivers strength and reliability. It comes plugged in and ready tear up the terrain, be it flat-out desert, rocky roads or crawling.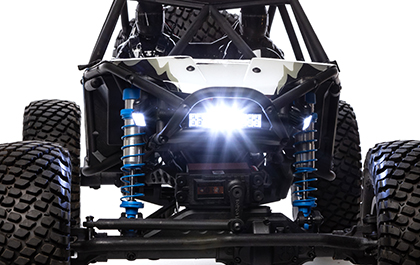 LED LIGHTS
LED lights are ready for wheeling after the sun sets. There are two white LEDs on a forward-facing light bar and two more white LEDs on front for rock lights. The rear racing-style light bar includes two red LEDs.