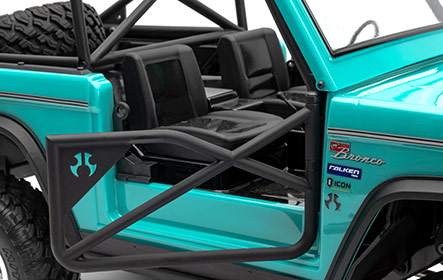 EARLY FORD BRONCO POLYCARBONATE BODY
There's plenty of scale detail in the officially licensed Bronco body for Ford fans to admire, including a separately mounted windshield and functional tube doors. The body mounts are hidden for that "ultra scale" look. Optional body mounts are also provided for using aftermarket bodies.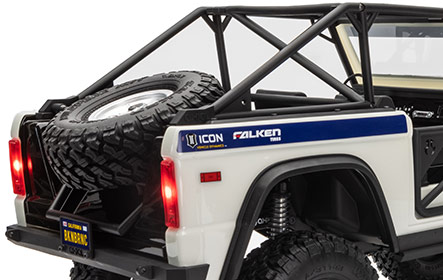 MOLDED ROLL CAGE
The realistic composite molded roll cage includes mounts for a functional spare tire and additional light housing — Axial® Universal Light Bar Set (sold separately).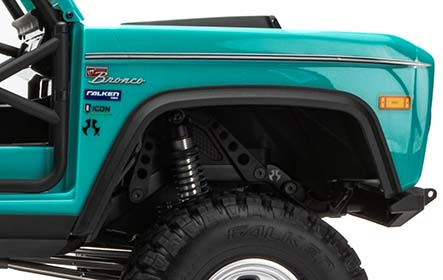 FENDER LINERS AND FLOOR SIDES
The body's fender liners and floor sides hide internal components that would usually be visible from the side of the chassis. They also help protect the interior and include mounting points for rock lights, such as the Axial® SCX10™ III Multi-Color LED Rock Lights With Controller (sold separately).
ROCK RASH PROTECTION
Fender flares and rock sliders that are accurate for the era provide much-needed rock rash protection for the scale Bronco body.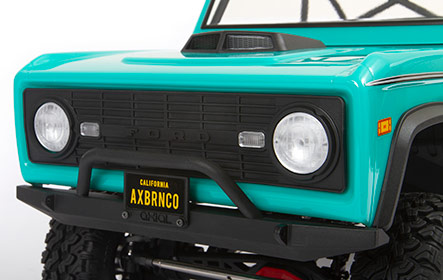 EXTERIOR DETAILS
Numerous exterior details add to the authentic look of the Early Ford Bronco body. Hood scoop, license plates, headlights, taillights, and windshield wipers are all included.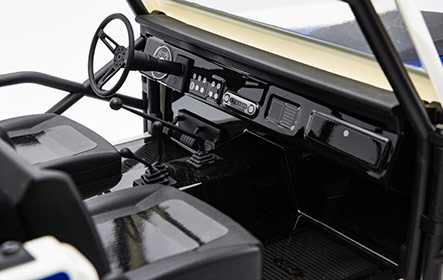 OPEN INTERIOR WITH SCALE DETAILS
The open interior design is packed with more scale details. Molded seats, dashboard, steering wheel with column, shifters, and foot pedals are all included as standard features.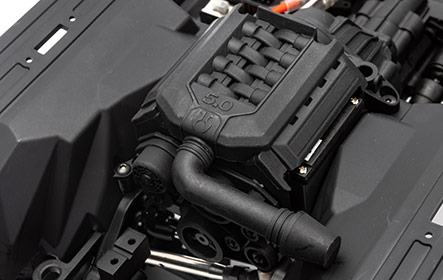 ENGINE DETAIL
This replica 5.0L V8 engine, transmission housing and transfer case conceal the powerful Axial® 35T electric motor for protection and to heighten the vehicle's scale appearance.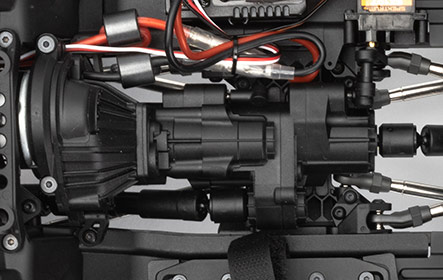 FRONT DIG TRANSMISSION & TWO-SPEED OPTION
Out of the box, the transmission is set up with a third-channel Front Dig function that lets you lock the rear axle from the transmitter. This acts like an anchor, allowing the front drive to pull the vehicle around in tight locations and dramatically increase maneuverability. Or you can configure it for two speeds with high and low gears by moving the included Micro Dig Servo to the two-speed linkage. To use both the two-speed transmission and Front Dig features, just add another servo and a radio with at least four channels, such as the 5-channel Spektrum™ DX5.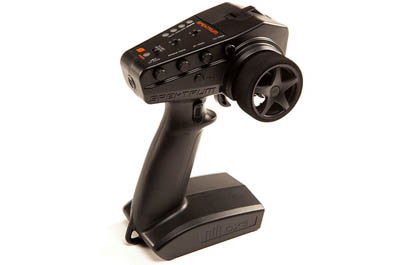 SPEKTRUM™ DX3™ 2.4GHz DSMR® TRANSMITTER
The included Spektrum DX3 radio features exclusive DSMR® technology for superior range, response, and interference resistance. It's also fully compatible with the Smart telemetry potential provided by the vehicle's installed Spektrum Firma™ Smart 40A ESC/receiver.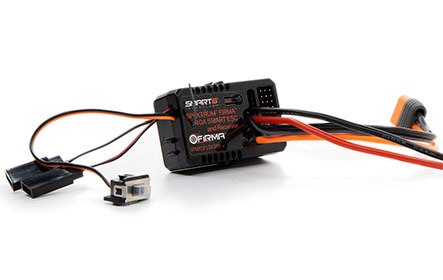 SPEKTRUM™ FIRMA™ SMART 40A ESC/Rx UNIT
Using a Spektrum Smart LiPo battery with the included, Smart-enabled transmitter and receiver/ESC unit enables you to follow vehicle battery capacity on the transmitter's voltage level indicator.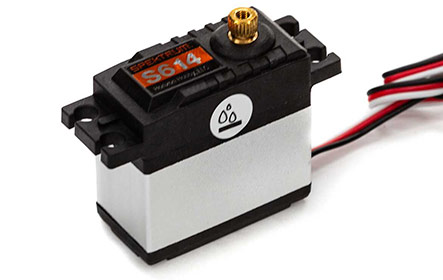 SPEKTRUM™ 15KG METAL GEAR SERVO
This metal gear, high-torque servo with cast alloy servo horn is waterproof for driving with confidence in any weather and trail conditions.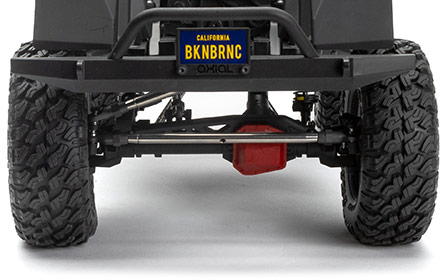 STRAIGHT AXLES WITH OFFSET FRONT DIFFERENTIAL
For true scale looks and a lower center of gravity, the Early Ford Bronco uses AR45 Straight Axles in the front and rear. An optional overdrive gear is available separately, the 6-Bolt 27 8 Overdrive Gear Set.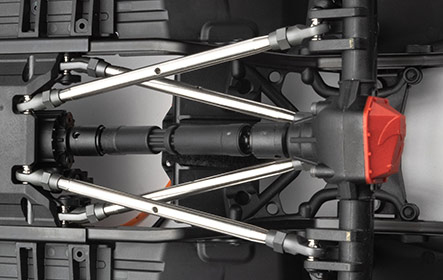 TRIANGULATED SUSPENSION GEOMETRY
The suspension geometry, tuned to work with AR45 Straight Axles, helps to reduce torque twist and increase the scale appearance. It also includes a front "cast alloy" 3-link with panhard bar.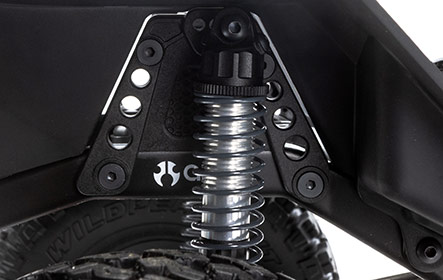 ALUMINUM ADJUSTABLE COIL-OVER SHOCKS
The oil-filled shocks have hard anodized, threaded bodies, a single coilover spring, plus an emulsion-style cap with bleed screw for easier rebuilds. The shocks are tunable for achieving the best dampening rate. Their increased bore size also creates more fluid volume for better performance.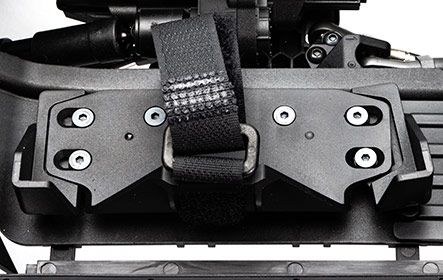 REVISED BATTERY MOUNTS
The SCX10™ III Early Ford Bronco battery tray accepts full-size standard LiPo or NiMH packs.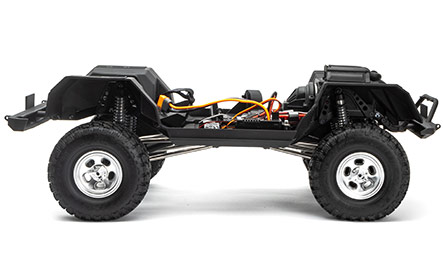 ADJUSTABLE WHEELBASE CHASSIS
The SCX10™ III chassis has an adjustable wheelbase that allows drivers to set its length to match aftermarket bodies (11.4", 12.0", 12.3").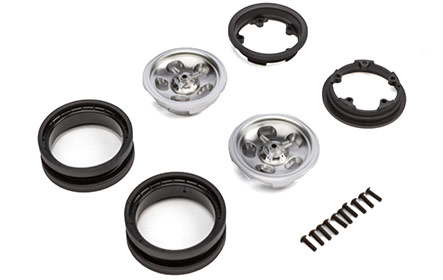 RETRO 3-PIECE BEADLOCK WHEELS
The Early Ford Bronco comes with 3-piece beadlock wheels that are scale replicas of period-correct "slot mag" full-size wheels. They not only complement the scale body but also allow tires to be mounted, removed, and replaced easily without gluing. Detailed "knock-off" style screw-on wheel caps are also included.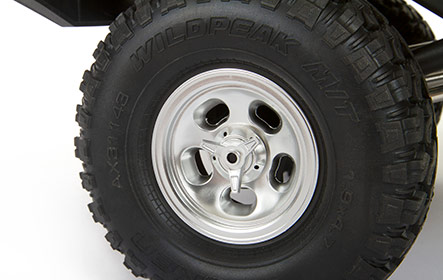 LICENSED 1.9 TIRES
These licensed 1.9 replica Falken Wildpeak M/T tires provide realism plus a solid grip for crawling over rocks and trails. Axial® also includes a full-size, trail-ready spare tire.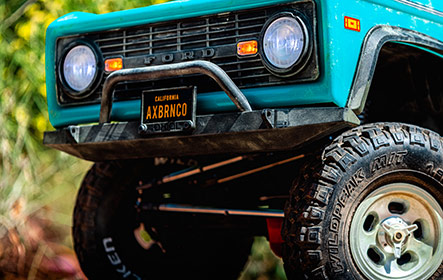 OFF-ROAD BUMPERS
The off-road bumpers have been engineered with the optimal approach angle for climbing and crawling over rocks and rough terrain. The front bumper also includes a mounting hole for a winch fairlead and aftermarket lighting. Front and rear scale license plates are installed for extra scale realism.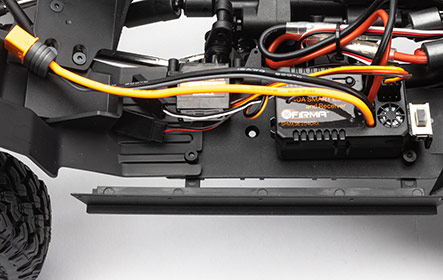 WATERPROOF ELECTRONICS
The SCX10™ III Early Ford Bronco is ready to drive in any weather and trail conditions thanks to waterproof Spektrum™ electronics.
Ford Motor Company Trademarks and Trade Dress are used under license to Horizon Hobby.