Ready-To-Fly Basic Flexibility
This Ready-To-Fly (RTF) Basic version includes a Spektrum™ DXS controller/transmitter equipped with industry-leading DSMX® 2.4GHz technology and everything else you need to fly except for a rechargeable lithium polymer (LiPo) battery and charger for the airplane. The convenient and money-saving Spektrum™ Powerstage 2 bundle (SPMXPSA200) includes a compatible 3S 2200mAh Smart G2 LiPo battery and an S120 USB-C Smart charger that can be used with a variety of USB power sources. Or you can choose the separate 3S 1300–2200mAh battery and compatible charger you prefer!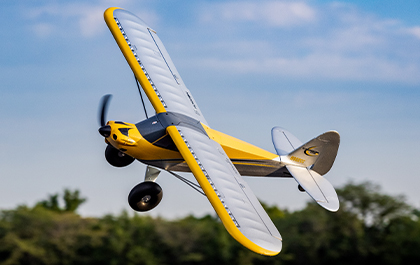 Telemetry Capable
The Carbon Cub S 2 1.3m is equipped with a telemetry-capable ESC that can provide a variety of real-time power system related telemetry data to compatible transmitters. This includes approximate flight battery power remaining via multiple LEDs and audible alerts from the DXS transmitter included with the RTF Basic version. It will also provide motor RPM, current, overall battery voltage and more to Spektrum AirWare™ equipped transmitters (including the DX6e and 8e, DX6 G2/G3 and 8 G2, the DX9, the NX6, 8 and 10, the iX12, iX20 and others) while you fly.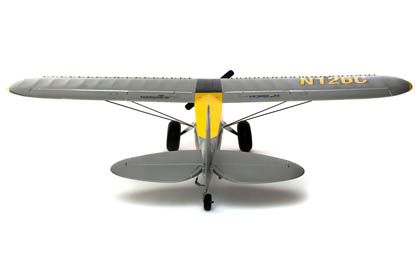 Durable Design
Construction with advanced EPO material delivers a lightweight yet durable airframe that's tough enough to handle everyday flying punishment without getting bent out of shape. And in the unfortunate event you damage any airframe parts or components and can't repair them, a full line of replacement parts is readily available.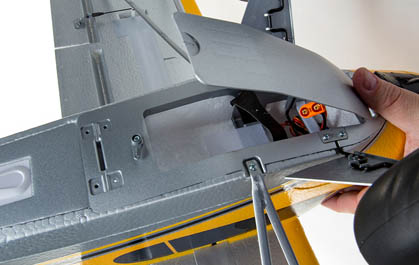 Easy Assembly
The Carbon Cub S 2 arrives mostly factory-assembled with the power system, servos, flight controller and receiver installed. All you need to do is finish some quick and easy final assembly, without the use of glue or special tools, and you'll be ready to fly in less time than it takes to charge a battery!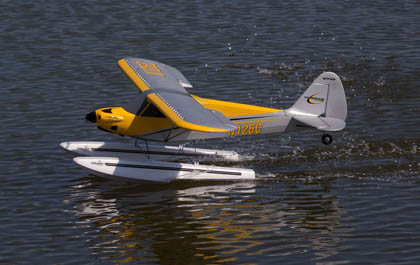 Versatile Gear Options
Thick grass, gravel paths, dirt trails; you can fly from these and many other surfaces that are impossible for most models of this size to handle. The robust landing gear is equipped with oversized tires that soak up the bumps of rough surfaces and provide excellent prop clearance. The optional float set (HBZ7390, sold separately) takes just a few minutes to install and all the necessary hardware is included with the aircraft and float set so you can fly from lakes and ponds.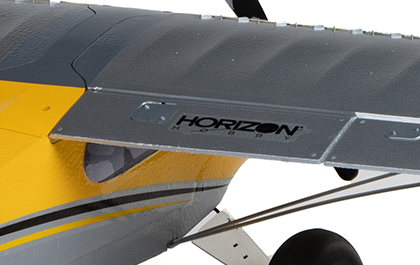 Optional Flaps
Functional flaps are an option for improved slow speed handling and even shorter takeoffs and landings. This feature requires a 7+ channel computer transmitter plus a flap servo and a servo extension (sold separately).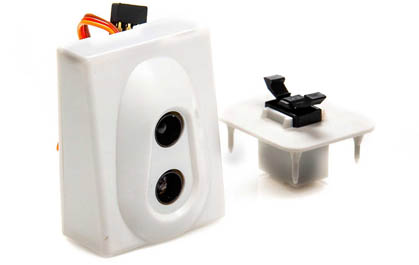 Optional Landing Assist Sensor for Smoother Landings
The Spektrum Landing Assist Sensor (LAS) is easy to install and provides automatic "flare" control to help inexperienced pilots "grease" landings by minimizing or completely eliminating bouncing (works over many/most surfaces and provides optimum performance when flying over/landing in grass).

Easily Upgrade to SAFE® Plus GPS-Enabled Technology
With quick and easy installation of the optional Spektrum GPS Module (SPMA3173; sold separately), you can add next-level autonomous guidance features that make it even easier to learn to fly. With SAFE Plus added, you get:
AutoLand
Activated by simply holding down a button, the advanced AutoLand function puts the airplane on a stabilized approach to land on its own near the GPS initialization point. You can even provide some directional guidance to avoid obstacles or to adjust the approach while letting the system do the rest to execute a safe landing. As your skills progress and you gain more confidence, you can take over more control inputs, eventually learning to land without any assistance from the automated system.
Holding Pattern
This beneficial SAFE Plus-exclusive feature allows you to "pause" the flight by putting the airplane into a GPS-guided holding pattern. When activated with the quick press of a button, the aircraft will automatically return to a position above the GPS initialization point and circle until the command is canceled with another quick press of the button. It's a great way to safely hand the controls off to a friend or regain visual contact if you ever lose sight of the model.
Virtual Fence
It's easy to accidentally let an RC airplane fly too far away, but with Virtual Fence, worry no more! It creates an invisible boundary the airplane won't fly past. When the plane reaches this boundary, it will automatically turn around and fly back toward the GPS initialization point. Then it will "wag" the wings to let you know when you have control again.

Flight School Qualifying Trainer
This trainer model qualifies for use in the Horizon Hobby Flight School. As a trainer, this plane needs minimal preparation to be flight-ready. It also includes SAFE® (Sensor Assisted Flight Envelope) technology to help new pilots control their models. Purchase this item along with a three-month AMA trial membership to get started.